Thunder Zapper
Thunder Zapper
Projectile created
Thunder Zapper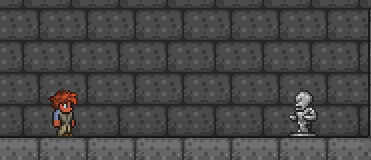 The Thunder Zapper is a desert-themed Magic weapon obtainable in Pre-Hardmode. It is found in Sandstone Chests in the Underground Desert or Oasis Crates when fishing in the Oasis. When cast, it launches a fast-moving, non-piercing projectile that is unaffected by gravity and will disappear with a visual explosion that does no damage after traveling for about 1 second or when hitting a solid tile. The projectile moves up and down in a zig-zag pattern horizontally, but not vertically (traveling straight when shooting directly up or down).
Its best modifier is Mythical.
Due to the medium mana cost and the very fast speed at which it auto-casts and its projectile, can be viable alternative to Gem staves.
Since it is obtainable from fishing, it can be a good early-game magic weapon.
The projectile is affected by the zig-zag motion, allowing for some interesting shot placement.

One example is shooting through a half-tile gap (see animation below).
 Desktop version

 Mobile version