The
Titan Glove
is an accessory item which increases the knockback of various weapons. It can be obtained by killing
Mimics
.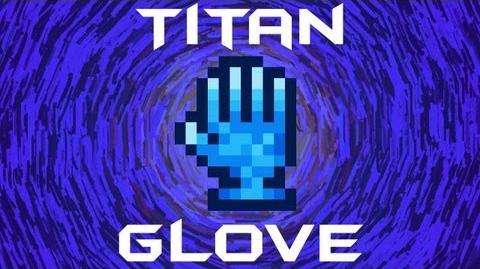 Notes
The glove states that it only increases melee knockback, but it actually increases all knockback by 80%. Because of this, fast weapons like the Phasesaber, Minishark, Megashark, Muramasa and Crystal Storm can inflict enough knockback on a monster to lock them in place, allowing for a quick kill from a safe distance. Additionally, the Titan Glove gives weapons such as the Adamantite Glaive, Breaker Blade, Dao of Pow, and Gungnir "Insane" knockback, which is the highest visible tier of knockback in the game.
Trivia
The Titan Glove is possibly a reference to the Titan's Mitt in the Legend of Zelda game, 'A Link to the Past', which allowed you to pick up boulders.
Update Info
Knockback increased from 70% to 80%, Tooltip shortened.
Community content is available under
CC-BY-SA
unless otherwise noted.