The Titanium Drill is a powerful pickaxe-type tool. It is a tier above the Adamantite Drill but a tier below the Chlorophyte Drill and Drax.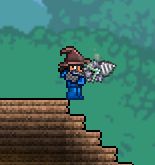 Update Info
Recipe requirements increased from 18 bars to 20.
Pickaxes & Drills
Standard Pickaxes
Copper Pickaxe

Tin Pickaxe

Iron Pickaxe

Lead Pickaxe

Silver Pickaxe

Tungsten Pickaxe

Gold Pickaxe

Platinum Pickaxe

Nightmare Pickaxe

Deathbringer Pickaxe

Molten Pickaxe

Cobalt Pickaxe

Palladium Pickaxe

Mythril Pickaxe

Orichalcum Pickaxe

Adamantite Pickaxe

Titanium Pickaxe

Chlorophyte Pickaxe

Spectre Pickaxe

Picksaw
Nebula Pickaxe
Solar Flare Pickaxe
Stardust Pickaxe
Vortex Pickaxe
Drills

Cobalt Drill

Palladium Drill

Mythril Drill

Orichalcum Drill

Adamantite Drill

Titanium Drill

Chlorophyte Drill

Drax

Nebula Drill
Solar Flare Drill
Stardust Drill
Vortex Drill
Laser Drill
Special Digging Tools
Cactus Pickaxe
Bone Pickaxe
Candy Cane Pickaxe
Reaver Shark
Pickaxe Axe
Shroomite Digging Claw
Community content is available under
CC-BY-SA
unless otherwise noted.