This Weapon is found only in the 3DS version(s) of Terraria.
The Tizona is an end-game 3DS version sword. Being crafted with 1 Excalibur, 15 Adamantite Bars, and 15 Souls of Blight, this sword is quite costly.
It uses a broadsword-style attack pattern and is able to attack continuously (moonwalking included). A flaming particle effect is shown when the sword is swung, similar to that of the Meteor Armor. The sword has a chance to inflict the debuff "Bleeding" on the target.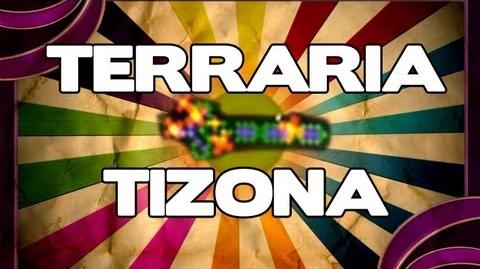 Trivia
Tizona is the name of the sword carried by Rodrigo Díaz de Vivar, El Cid, which was used to fight the Moors in Spain according to the Cantar de Mio Cid. The name Tizón translates to "burning stick", or "firebrand".
Before 1.2, the sprite was a green and purple recolor of the Excalibur.
Since no enemies regenerate health, enemies inflicted with the bleeding debuff will instead gradually lose health, instead of being unable to regenerate it.
Update Info
v1.3.0.1
New sprite
Cheaper Recipe.
Community content is available under
CC-BY-SA
unless otherwise noted.