Toilets
Toilets


Statistics
Type
Placeable

✓

(1 wide × 2 high)

Use time
10

(Very fast)

Tooltip

'How desperate are you?'

(Cactus)


Seriously? THIS is what you used the Broken Hero Sword for?

(Terra)
Rarity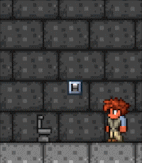 Toilets are furniture items which can be placed on the ground. They are functionally similar to chairs, and count as comfort items for NPC house requirements. In combination with a Work Bench or a Table, they also form minor crafting stations. Only the Toilet and Golden Toilet are considered as a valid crafting station.

Toilets act as mechanisms that can be activated via wire, which makes them appear to explosively eject sewage. This effect is purely a novelty visual. Ejected sewage on the ground fades after a few seconds.
There are currently

42 /


2 toilets.
Similarly to chairs, toilets can be sat on by pressing the

⚷

Open / Activate button on them.
Toilet and Golden Toilet are considered as chairs for crafting station purposes.
Several "joke toilets," most notably the Terra Toilet, are obtainable in game and are characterized by their absurd crafting cost.
 Desktop version
Desktop 1.4.0.1:

Added Bamboo, Blue Dungeon, Bone, Boreal Wood, Cactus, Crystal, Diamond, Dynasty, Ebonwood, Flesh, Frozen, Glass, Granite, Green Dungeon, Honey, Lesion, Lihzahrd, Living Wood, Marble, Martian, Meteor, Mushroom, Nebula, Obsidian, Palm Wood, Pearlwood, Pink Dungeon, Pumpkin, Rich Mahogany, Sandstone, Shadewood, Skyware, Slime, Solar, Spider, Spooky, Stardust, Steampunk, Terra, and Vortex Toilets.
Players can now sit on toilets.
Can now be activated by wire for a humorous visual of ejecting feces.