Tragic Umbrella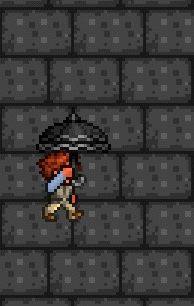 The Tragic Umbrella is a held item which can be purchased from the Clothier for 10 while in a Graveyard. While held, the Tragic Umbrella appears above the character and allows them to fall at a slower rate than normal. It is also a melee weapon, and functions exactly like the standard Umbrella, aside from dealing higher melee damage.
Its best modifier is Legendary.
Notes
[
]
The Tragic Umbrella is underwhelming compared to the Umbrella. By the time it becomes available (after defeating Skeletron), players usually already possess an accessory that negates fall damage or a regular Umbrella, and there are numerous post-Skeletron weapons that have higher Damage.
When attacking with the Umbrella midair, your fall will no longer be slowed for the duration of the attack.
Trivia
[
]
This item is likely a reference to a funeral umbrella, an umbrella that undertakers use to cover celebrants at a funeral with when it rains. This is due to its appearance and the fact it can only be purchasable on a Graveyard.
History
[
]
 Desktop version

 Console version

 Mobile version