This page is about the furniture item. For the interface feature, see Inventory
The Trash Can is a Furniture item that can be used in a similar fashion to a Chest or Barrel.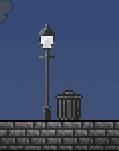 Notes
Although the furniture item is called a Trash Can, its use is for the storage of items, effectively making it just like a Chest.
The trash can is great for making Urban look-a-like spots, or for example, making a city.
Update Info
Community content is available under
CC-BY-SA
unless otherwise noted.