Upcoming features
Note: This article is about future Terraria updates. For past updates, see Desktop version history, Console version history, Mobile version history, and 3DS version history.
Archives

---
Re-Logic staff members occasionally announce and/or hint at various details of Terraria updates that are still in development. This page lists those details.
Since the updates described here have not been released yet, and many of these details are only conjectured based on comments or screenshots provided by the staff, all items here may be subject to change, or may not end up in a future Terraria update at all.
Upcoming features policy:
Any and all upcoming features must be sourced to a Re-Logic staff posting. Unsourced information, or information purportedly leaked from other sources, will be removed.
Future features and changes should remain confined to this page, and to articles dedicated solely to future items. They should not be added to articles on current features.
Graphics officially released by Re-Logic staff, or images cut from them, can be uploaded. Unreleased graphics purportedly leaked from other sources may be Re-Logic intellectual property, and/or may be unreliable, and will be deleted. Original player artwork depicting future items will also be deleted, unless it is solely for personal use in User: space.
Terraria

[

]
1.4.4
[
]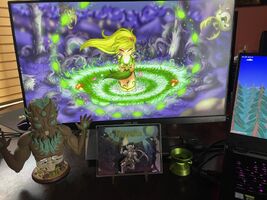 1.4.4 (titled "Labor of Love") will feature various balance and quality of life changes.[youtube 1][forums 1] It is planned to be released sometime during 2022.[forums 2]
General
[
]
Items
[
]
Several new items:
Several changes to existing items:
NPCs
[
]
World generation
[
]
Miscellaneous
[
]
Cross-play
[
]
With Journey's End being designed to be a conclusion to Terraria, no new major content updates are planned for the
 Desktop version. However, Re-Logic has stated that they would like to implement cross-play[forums 5], allowing Multiplayer between the
 Desktop version,

 Console version, and

 Mobile version. This will require feature parity between all three versions to function properly, as Cenx has stated[tweets 16].
Terraria 2

[

]
In the past, Redigit has mentioned plans to release Terraria 2[other 1], a separate game from the cancelled[forums 6] Terraria: Otherworld, although little information is known about the nature or content in the possible upcoming sequel at this time, including whether it still exists.
References
[
]
Forums
[
]
Tweets
[
]
↑ Cenx on Twitter

February 9, 2022

↑ The final, final, final, seed

February 18, 2022

↑ I would like to introduce the Fart Kart

April 18, 2022

↑ 4.0 4.1 4.2 Mistakes were made

April 20, 2022

↑ Still checking your Cell Phone when nature calls? All the cool Terrarians are into #toiletfishing nowadays...

May 9, 2022

↑ I've already decided what it is. It's called *spoilers*

May 10, 2022

↑ Some info accessory readouts will go dim when inactive, popping back up when relevant again! This should draw some extra attention whenever that rare enemy shows up!

March 10, 2022

↑ 9.0 9.1 We were having a good time.

May 10, 2022

↑ Sometimes, I like to pick up Life Crystals. And then, later, I like to put them back down. Its the simple things in life that make it all worth it.

May 12, 2022

↑ Lunar Portal Staff needed a little juice, so we made an offering to the Moon Lord. The call was answered!

February 22, 2022

↑ Blessed Melee 💖

May 2, 2022

↑ More testing shenanigans- The Triple Threat. 🤪

April 26, 2022

↑ Well how about that!

May 2, 2022

↑ Redigit on Twitter

February 19, 2022
Reddit
[
]
↑ Since 1.4.5 is a QOL patch, bring back accessory swapping, reply by Leinfors

April 6, 2022

↑ What could go wrong? Change my mind, you wont., reply by Redigit

April 21, 2022

↑ Crafting Idea for magic mirror, reply by Leinfors

May 9, 2022

↑ We Need This in the 1.4.4 Update., reply by Leinfors

May 10, 2022

↑ Why does the Goblin Summoner drop a weapon for every class except summoner?, reply by Redigit

May 13, 2022
YouTube
[
]
Other
[
]