Archives

---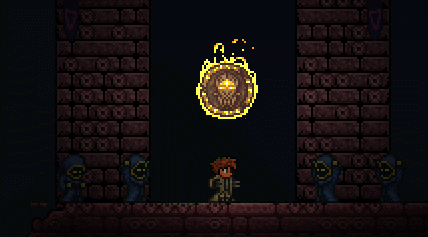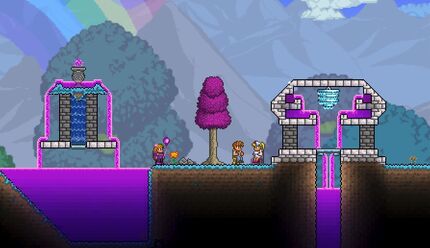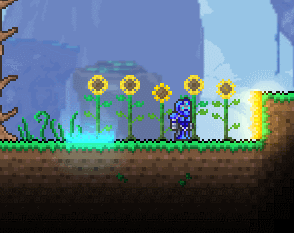 New armor Cenx was wearing.


Dryad and Wizard new action animations.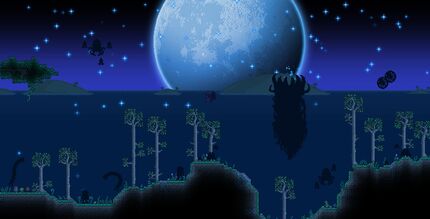 The Terraria 1.3 update is scheduled for release on June 30th, 2015. This may be the last update that Redigit works on personally. During the development of 1.3, Redigit began preliminary work on one or more new games. The developers Yoraiz0r and Skiphs will continue updating Terraria during and beyond 1.3.[1][2][forums 4] This version is said to be "better", rather than merely bigger with an inflated item count.[reddit 1][forums 5]
The official changelog for Terraria 1.3 was made available on June 27.[forums 6]
Details on 1.3's "spoiled" features thus far are listed below.
New items
Individual items
Arkhalis, A new sword that is obtained just like the Enchanted Sword. It behaves like no other sword in the game, as it only swings back and forth.
Meowmere, a sword that fires cat projectiles that leaves a rainbow trail, and make cat sounds.[forums 9]
Sinks added to each furniture set.[forums 10]
Alchemy Table: Offers a 1/3 chance of not consuming ingredients when crafting Potions.[forums 7]
Pink Gel crafting material, possibly used to craft Bouncing Bombs, Pink Glowsticks that float in water and Pink Slime Block, among other things.[forums 9]
Wormhole Potion allows teleporting to another player's location by pointing to them on the Minimap.[forums 9]
Gender Change Potion.[forums 6]
Flask of Frost, a new Flask.[forums 9]
Frost Bullets.[forums 9]
Charged Laser Blaster.[forums 9][7]
Granite Blocks and associated Furniture set.[forums 9]
Marble Blocks and associated Furniture set.[forums 14]
Planter Boxes, for growing Herbs as portable items.[forums 15]
Target Dummy for testing weapon effects.[forums 15]
Rainbow Torch.[forums 14]
Yo-yo,[forums 16] a Flail-like weapon with multiple variants, including the Hel-Fire and the Terrarian.[forums 1]
Sundial.[forums 14]
Martian Costume Pants.[forums 3]
Bee's Knees, a bow dropped by Queen Bee that fires 3 homing bees that bounce on walls twice and get destroyed on contact with third wall. Each bee does around 10-70 damage. Replaces normal arrows into three bees.[9]
Blackhole Beater,[forums 2] a new ranged weapon.
Treasure Bag, a loot item dropped by Bosses in Expert Mode.[10]
Flying Saucer pet/minion.[forums 1]
Star Wrath, a stronger version of Starfury.[forums 1]
Daybreak, a spear projectile weapon.[forums 1]
Phantasm, a bow capable of firing up to 3 arrows simultaneously; the arrows retain their special properties, and have a chance to be recovered.[forums 1]
Solar Eruption, a flaming flail-like weapon.[forums 1]
Solar Fragment, dropped by Solar enemies.[forums 1]
Deadly Sphere pet/minion.[forums 1]
Super Healing Potion, the health equivalent of Super Mana Potion, restoring up to 250 health.[forums 1]
Item groups
New Dyes: Living Rainbow, Living Flame,[dev 1] Chlorophyte,[tweets 1] Gold,[forums 13] Negative,[forums 3] Pixie, Wisp.[tweets 1]
New Campfire variants crafted using the various Torch types, including the Rainbow Campfire[forums 15] crafted using the new Rainbow Torch, which cycles colors similarly to Rainbow Bricks; and the Demon Campfire,[forums 2] crafted from Demon Torches, with similar red-purple-blue color-change effect.
3 new Mounts including a Drill Mount, (a late-game, futuristic digging vehicle) a Unicorn Mount, and a weird alien-like salamander thing. [forums 4][reddit 1][forums 1]
New Banners: Green Slime, Ice Slime, Red Slime, Purple Slime, Jungle Bat, Illuminant Slime, Illuminant Bat, Giant Bat, Snow Balla, Lava Slime, Crimslime, Possessed Armor, and other unknown banners.[forums 14]
General item mentions
New Events
New characters
Mechanics
Item/character changes
References
Tweets
Forum posts
Reddit
Other