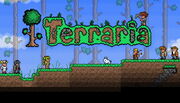 Information
Sup, im necron896 a new editor on wiki. If your wondering how active I am or where I comment and edit, its none of your bussiness isnt it? But oh well. I comment/edit on the "Terraria Wiki" and the "Terraria Fanon Wiki" or the "Pikmin" Wiki (Mostly Terraria.) And im only active one or two specific times in the weekdays, considering whether the library is open or not.... and i may be online sometimes when im bored. Also please check out my blogs, they help out alot to the people who dont know how to survive the first night, and a blog for those who dont know what admins are! Also please leave a message about anything i should do, whether it be editing, articles, or pictures, please leave me a message on my talk page or post on my blogs, I check them daily! :D
My Achivements so far
1. I created the "Demonite Tier", "Gold Tier", and the "Meteorite Tier" articles! :D
2. I got the 100 edits, 50 pictures, and 50 articles badges!
3. So far i have made/improved 220 edits, 50 pictures, and 100 articles! (I will update this when im about to log off.)
4.On the wiki leaderbourds i am currently the 33rd highest wiki user.
About Myself
I am a student who goes to middle school as of right now, im 13 years of age, if you want to know the times when i go on the computer for wiki here it is. (Wednesday) 11:00-11:30. (Weekends) Rarely if possible 12:00-6:00. (Weekdays) 12:00-12:30 (Sometimes afterschool on weekdays) 5:00-7:00, it depends whether or not im available, this is also the only time ill be able to go on the chat. I got my username from a game called --------- where i played for hours and hours when available, my favorite units out of all of them were the ------ from the ------- army. Oh you didnt get that? Well if you didnt understand just search "Necron" on google, maybe youll find out what my username was based on. :D (I will be more often now, or less often because right now is summer.)
Community content is available under
CC-BY-SA
unless otherwise noted.