Hello Terrarians! Welcome to the fifty-seventh issue of The Terrarian Bugle! Today we have lots of news to report on, so enjoy that! Following that, we'll conduct our normal weekly events, and then start a brand new series; a complete showcasing of Khaios's builds!
News & Spoilers
Brief synopsis of the following articles:
News
Console Update and Control Scheme News - Jul 30th
505 Games has recently announced their current plans with the latest console updates, and have asked for the community's help in deciding a few new control scemes for the Xbox and Play Station versions of Terraria!
They state:
"Hot on the heels of our official Terraria on Nintendo reveal last week, we wanted to give you an update on our plans for the rest of the console platforms – and then to ask you, the community, for your invaluable input on a change we are looking to make as a part of these updates. So, without further ado, off we go:
Console Terraria Update Plans
Through a variety of issues, we wound up in a situation where the previously-launched "Additions" update did not wind up containing the entirety of Terraria 1.2.3 content. At the same time, we had started work on the next round of content – and, unfortunately, launching post-1.2.3 content into versions of the game that do not already have the full 1.2.3 update would cause all kinds of issues – for us and for you guys!
So, that leaves us at a crossroads of sorts – and here is what we have decided to do:
We will release the content below as one update – currently planned for the 4th Quarter of 2015 (Oct-Dec), though we will provide a more exact date as soon as possible:
The remainder of the 1.2.3 content
Terraria 1.2.4, in its entirety, including (but not limited to):

Minecarts
Fishing
Duke Fishron
And much much more!
So, that – coupled with the recent mobile announcements – will mean that all of the existing Terraria console/mobile platforms will be up to the 1.2.4 level by the end of 2015! Nintendo being the exception, as it doesn't launch until after the new year.
Beyond that, we have started looking into the 1.3 source code, and will share any plans there just as soon as we have them together.
Custom Controls - We Need You!
As a part of the update later this year, we are looking to add some additional control schemes beyond the default that is currently in the game. These will likely be in the form of various "alternate" control setups that you would select from in the options menu.
That's where you come in – we have listed the Default (as it exists today) below. We would love to have you – the community – propose your alternatives to us for possible inclusion in the coming update!"
To submit your idea, head over to this thread and follow the instructions!
Weekly Events
Poll of the week
This poll is based on what your favorite mini-cave biome added in 1.3 do you like most, enjoy!
Creation/Pixel art of the Week
This week we have one submission! It is Shadown_Mantis' uniquely-styled NPC complex!
~Due to the image's immense size, I am going to direct you to this link so you can view it properly.~
Weekly Special
This week will be the first part of our new series; a complete showcasing of Khaios's amazing Terraria builds!
Due to the image's immense size, I am going to direct you the below links so that you can view them properly.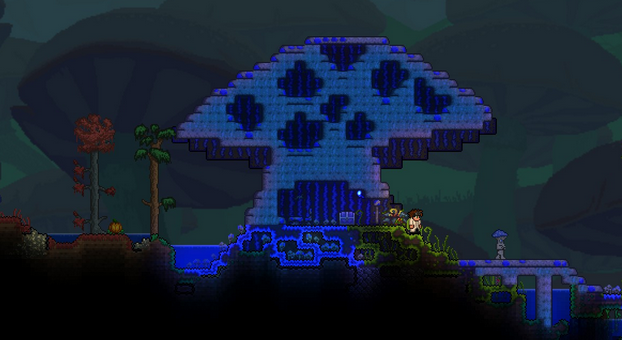 Your opinion on these builds?
Announcements and Shoutouts
Announcements
There is an extremely important discussion regarding the potential reversal of the individual page project. Be sure to have a look!
There is a blog regarding changes to the category system, so be sure to have a look!
Shoutouts
Interested in contributing to the wiki for 1.3? Be sure to have a look here for some helpful tips!
Outro
Hey guys, I hope you enjoyed the fifty-seventh issue of The Terrarian Bugle. Remember, if you have any ideas whatsoever, just let me know at my talk page and I'll see if I can add it in. If you want your creation in next week's Creation/Pixel art section just hit me up at my talk page or talk to me in the live chat.
Thanks for reading, guys! Let me know what you think in the comments below.
Have a nice weekend and I'll see you next week. :D
Bugle Updates
Credits
Community content is available under
CC-BY-SA
unless otherwise noted.