This page describes the monster. For the buff, see Werewolf.
The Werewolf is a monster that will only spawn at Night during a Full Moon in a Hard Mode world. They are quite fast and possess high health, defense and attack, making them rather dangerous. Despite common folklore, Werewolves do not take extra damage from silver bullets.
Werewolves can inflict the Bleeding debuff, which prevents natural health regeneration, though healing items can still be used. They have a 1.67% chance to drop the Moon Charm accessory and a 1% chance to drop an Adhesive Bandage upon death. Wearing the Moon Charm on a night with a full moon causes the player to receive the Werewolf buff, turning them into a Werewolf.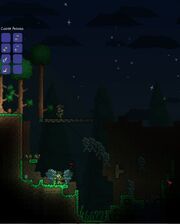 Bugs
Notes
Werewolves do not have a ranged attack, but they can jump and open doors.
One way to get the Moon Charm is to wait for a Blood Moon and Full Moon, and let the werewolves get trapped in a small hole. Then, use weapons that can damage multiple enemies at once. Facing werewolves on a Blood Moon is very dangerous, and it is highly advised that you stay on a wood platform.

As of 1.2, a pit with traps such as Flame Traps or Spiky Ball Trap are more efficient as a player won't need to use weapons to kill the werewolves. A player could also make a passage right below the trap zone to collect the Moon Charm or money without going outside.
Update Info