This article is for the trading card. For the monster, see Werewolf.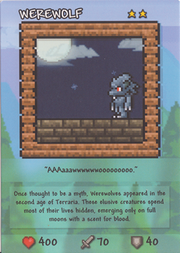 Quote
AAAaaawwwwwwooooooooo.
Description
Once thought to be a myth, Werewolves appeared in the second age of Terraria. These elusive creatures spend most of their lives hidden, emerging only on full moons with a scent for blood.
Stats
Rarity: ☆☆
Hitpoints: 400
Attack: 70
Defense: 40
Other cards
There are nine known cards that are available through buying the Terraria Collector's Edition game.
Community content is available under
CC-BY-SA
unless otherwise noted.