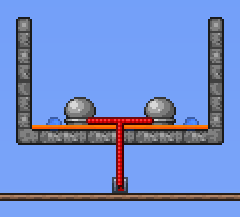 Wire is a unique item used to create circuits, in order to connect mechanisms to triggers (Pressure Plate, Timer, Switch or Lever). Wires are placed using Wrenches, and are retrieved using the Wire Cutter, both of which can only be obtained from the Mechanic. Wire placed by different colored wrenches will be of different colors, which allows independent wire circuits to overlap without interfering with each other. Wire itself is available for purchase from the Mechanic, but can also be obtained from naturally-occurring Mechanisms, which exist sparsely Underground, and frequently in the Dungeon and Jungle Temple, in Traps and Chain Lantern mechanisms.
Placed Wires only display on-screen when a Mechanism-related item is held by the player, such as a Pressure Plate or Wrench. Wires occupy their own dedicated layer when placed, and so can occupy the same tile space as Furniture, Walls, Blocks, and even deep Lava pools, along with any other placed item or material. Wires can be placed in midair, without the need for support. Explosions have no effect on placed Wires.
The player's Wire placing and cutting reach is roughly 25 tiles horizontally and vertically.
Wires are considered "connected" to triggers and mechanisms when they are placed in the same tile space as those items (when they appear to be "touching"). An exception is Statues, which are considered connected to any wires in their 2x3 tile space, even though some statues do not appear to reach a 3-tile height (see adjacent image).
Wire is considered "ammunition" for wrenches, and can therefore be placed in the Ammo slots.
Crafting
Used in
Template:Crafts top Template:Crafts row Template:Crafts row Template:Crafts row Template:Crafts row Template:Crafts row Template:Crafts row Template:Crafts row Template:Crafts row Template:Crafts row Template:Crafts row Template:Crafts row Template:Crafts row Template:Crafts row Template:Crafts row Template:Crafts row Template:Crafts row Template:Crafts row Template:Crafts row Template:Crafts row Template:Crafts row Template:Crafts row Template:Crafts row Template:Crafts row Template:Crafts row Template:Crafts row Template:Crafts row Template:Crafts row Template:Crafts row Template:Crafts row Template:Crafts row Template:Crafts row Template:Crafts row Template:Crafts row Template:Crafts row Template:Crafts row Template:Crafts row Template:Crafts row Template:Crafts row Template:Crafts row Template:Crafts row Template:Crafts row Template:Crafts row Template:Crafts row Template:Crafts row Template:Crafts row Template:Crafts row Template:Crafts row Template:Crafts row Template:Crafts row Template:Crafts row Template:Crafts row Template:Crafts row Template:Crafts row Template:Crafts row Template:Crafts row Template:Crafts row Template:Crafts row Template:Crafts row Template:Crafts row Template:Crafts row Template:Crafts row Template:Crafts row Template:Crafts bottom
See Also
History
Template:Translation project