Wizard Hat

The Wizard Hat is an armor item that can be equipped in the helmet slot. It increases the player's magic damage by 5% / 15% and grants 4 / 2 additional defense. It is guaranteed to be dropped by Tim.
In Celebrationmk10 worlds, the Wizard Hat also grants an additional minion slot.
The Wizard Hat is part of the Wizard set, which further consists of a Mystic Robe or any gem-augmented Robe. It provides a set bonus of +10% magic critical strike chance. The Magic Hat is an alternative for the helmet slot.
Trivia
[
]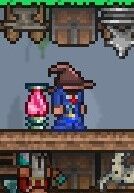 History
[
]
 Desktop version

 Console version

 Nintendo Switch version

 Mobile version