Wooden Boomerang
Wooden Boomerang

Projectile created
Wooden Boomerang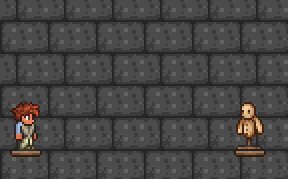 The Wooden Boomerang is the lowest tier of boomerang. It is found in Wooden Chests located on the surface and within the underground layer.

It can be upgraded into the Enchanted Boomerang with a Fallen Star.
Its best modifier is Godly or Demonic. Both modifiers increase the average damage output by the same amount.
 Desktop version

 Console version

 Switch version

 Mobile version