Work Benches
Work Benches are a type of crafting station required to craft many essential early-game items. They are also one possible way to fulfill a house's flat surface item requirement. Bottles, Pink Vases, and Mugs can be placed on it and used as a Placed Bottle for crafting potions. The Work Bench is the first crafting station the player can make in the game, and one of the first items overall.
There are



34 /


26 types of Work Benches which can be crafted, and 7 types which must be picked up from areas such as the Dungeon. Some Work Benches can also be found in Underground Cabins, in which they follow the theme of the cabin they are found in.
Crafting
[
]
Recipes
[
]
Noncraftable Work Benches
[
]
Used to craft
[
]
Achievements
[
]
Benched

 •

"

Craft your first work bench.

"

Craft your first

Work Bench

.


History
[
]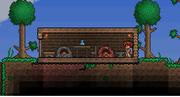 PC version
Desktop 1.4.0.1:

Crafting a Work Bench for the first time now grants the player the "Benched" achievement.
Slime Work Bench now craftable at a Solidifier.
Spider, Lesion, Sandstone, Bamboo, Nebula, Solar, Stardust, Vortex Work Benches added.
Skyware Work Bench item and placed sprites updated.
Desktop 1.3.5: Golden and Crystal Work Benches are now obtainable.
Desktop 1.3.1: Golden and Crystal Work Benches added, but unobtainable.
Desktop 1.3.0.1:

Meteorite, Granite, Marble and Martian Work Benches added.
Skyware Work Bench now correctly requires Sky Mill to craft.
Desktop 1.2.4:

Palm Wood, Boreal Wood, Skyware, Glass and Living Wood Work Benches added.
Mushroom and Slime Work Bench sprites are updated.
Desktop 1.2.3: Added Dynasty, Honey, Frozen and Steampunk variants.
Desktop 1.2: Sprite updated, now can be destroyed with a pickaxe, added Rich Mahogany, Cactus, Mushroom, Pearlwood, Ebonwood, Shadewood, Flesh, Bone, Slime, Gothic, Blue Dungeon, Green Dungeon, Pink Dungeon, Obsidian and Lihzahrd variants.
Desktop 1.0.6: Wooden Workbench Sprites updated. Old sprites were
 Console version

 Nintendo Switch version

 Mobile version
cs:Work Benches/cs