The 
Yeti
is a
monster
that spawns during the 
Frost Moon
 event at wave 12 and on. As a result of its extreme resilience to knockback and high attack, it is a formidable foe should it attack in great numbers. However, as it is ground-based, players who have any form of height advantage over it are fairly safe.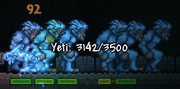 Strategy
In order to deal with many of these monsters at once, a player may want to consider using Ranged Weapons or thrown Melee Weapons which will pierce multiple enemies (eg. Paladin's Hammer, Vampire Knives, a powerful gun with Meteor Shot, etc.). Hovering, using a flight-enabling accessory is recommended, although this may cause unwanted altercations with aerial enemies such as Flockos and the Ice Queen.
Update Info
Community content is available under
CC-BY-SA
unless otherwise noted.